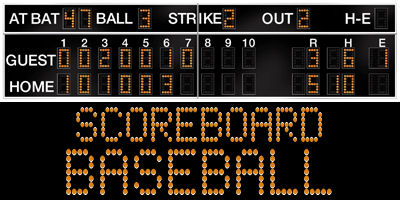 Board Game & Seasons / Free Downloads and Addons
Welcome to the world of Scoreboard Baseball !
Scoreboard Baseball is a full stat quick play baseball game that can be played in around 10-12 minutes from out of the box to stat completion. There are no lineups to decide upon and no score sheets to fill out yet the game unfolds inning by inning with a key player and action being revealed along the way. While it can be used to add on to existing full play baseball games, such as Inside Pitch Baseball, it can also hold its own as a season replay game.
Each team is represented by a single chart that shows all of the possible players and how they effect scoring in an inning when called upon to deliver as a key player. It could be the 3rd string catcher that comes through or maybe your backup shortstop. One roll per inning gets you all the action plus all the pitchers stats for that inning.
All hitters are rated for, basically, runs created. This is how runs can be scored during an inning. They also have ratings for HR, 3B, 2B, SB and hits in general. How often a hitter is called upon is based on how many plate appearances he had during the season being replayed. The bigger the hit type, a HR beats a single, the better chance to have that big inning. How many runs a team scored in an inning during the year is recreated with Scoreboard as each team has its own scoring chart.
Pitchers are rated on H, K and BBs. They also have ratings which can cause runs to score in an inning or block potential runs from scoring. The pitchers' stay in the game relies upon how many hits, runs and walks he gives up in his stint. Deciding who pitches doesn't slow the game down as pitchers have start and relief ranges that you can use to "coach" the team.
Relievers are not left out of the mix as all their appearances and stats can be tracked as well. When to bring in a certain reliever is also covered with 7 different scoring/inning breakdowns that are based upon actual year appearances. Your middle guys will come in at the proper times and be effective (non-effective) just like the year the charts recreate.
While most stats are gathered during the game some loose ends must be accounted for at games' end. These are handled with each player given ranges to fill in those RBI and hit stats so that the score sheet comes out even.
You don't just roll for a final score in Scoreboard but you get the ebb and flow of the game broken down per inning. Sometimes your less than stellar players will need to come through in a pinch recreating the excitement of a play-by-play game just done quicker. By the end of the game, you will have these stats for the players as well as see when and how they happened in the game.
Pitchers: W, L, SV, IP, H, R, ER, K, BB
Hitters: H, 2B, 3B, HR, SB, RBI
After a series or two from a team, multipliers are given to each player to show how many AB he would have based on the number of games his team has played. This can be used to get you batting average leaders, etc... for your league.
Get on the Board with Scoreboard Baseball !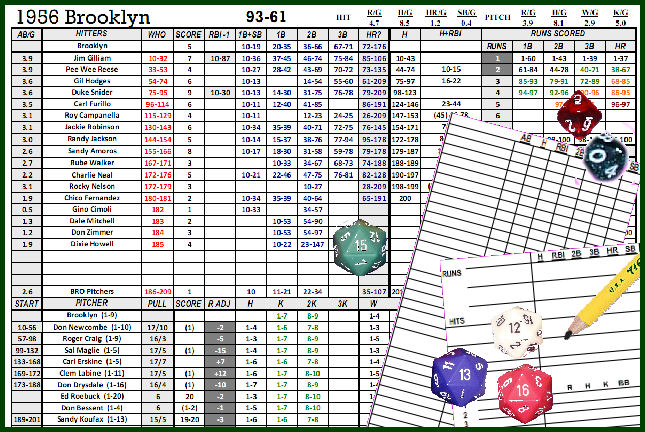 Scoreboard Baseball Game Parts:

$FREE of charge for the PDF / eBook
Scoreboard Baseball is a quick play (10mins) Baseball game. Below are the game parts, which are free to download. The archive file contains the rulebook and scoresheets in PDF format.

eBook game comes with everything you need to play except dice which the game needs six in suggested RED 1d20 & 1d10, WHITE 1d20, BLUE 1d20 & 1d10, GREEN 1d20. Of course a computerized dice roller (be it Excel, VB, whatever else) would also suffice and is available in the game addon section below.

Download PDF

Scoreboard Baseball Game Parts


(updated Jan. 2018)

'Gotta say it's the first semi-quick game that flows like baseball and it's great to get a full set of stats. Great work !!!!!'

'After playing ***,*** and Scoreboard, my very clear cut winner is Scoreboard Baseball'

'for a quick play game that actually incorporates the ebb and flow of a baseball game, Scoreboard wins rather easily'
---
Seasons for Scoreboard Baseball
Bring to life Professional Baseball on your tabletop with one of the many seasons available for Scoreboard Baseball. Each set includes team charts for every Major League team that played in the season represented..

Grab your favorite season(s) recreating various MLB Seasons and play them out to conclusion in SBB or use SBB in combination with Inside Pitch to round out your IP Leagues !

$28.00 for Color Printed & Shipped USPS - board game version
Printed on #110 cardstock and shipped to your door. These are JUST the team charts for the season(s) listed. There are no game parts or dice included in a print & ship order.

$10.00 for the PDF / eBook - board game version
Game rules and scoresheets can be found in the game parts area of this page - free of charge.

*eBooks are in PDF format and are sent via email within 24hrs of purchase.

Season (Board Game)

Printed Ppd (color)

eBook / PDF

(via Email)

'Scoreboard gets the top score for not making the game feel like a stat accumulation balancing act. The numbers for the game are derived as the game flows...'

''
---
Scoreboard Baseball Helper/Roller (Windows PC)
A PC based playing aid that is two programs in one. Can be used as a PC based dice roller, or a helper which not only includes the dice roller but also lets you track games stats and displays the line score..
Programmed in Visual Basic by B. Salm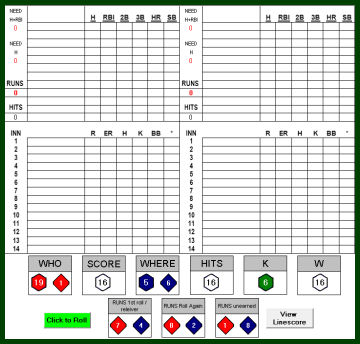 ---