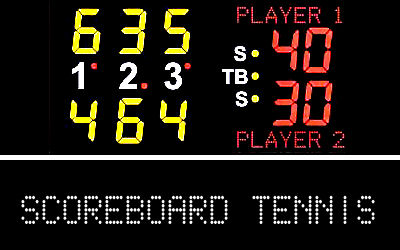 Board Game & Seasons / Free Downloads and Addons
Welcome to the world of Scoreboard Tennis !
Scoreboard Tennis is Inside Sports' latest addition to our Quick Play line of games. All players are rated for each surface they played on, based on their real life performance.
With each season that is rated, any match-up can be replayed on your tabletop. You can even replay entire Grand Slam tournaments.
Scoreboard Tennis offers two different quick play options. You can choose to play a match either Set by Set or Game by Game with just a single roll of the dice determining the winner of the set or game. Scoreboard Tennis is the perfect companion to Inside Sports' Inside Volley Tennis game. With these two games combined, you have the option to play a match Set by Set, Game by Game, or Shot by Shot. The choice is yours. No other tennis game on the market offers this kind of versatility!
Get on the Board with Scoreboard Tennis!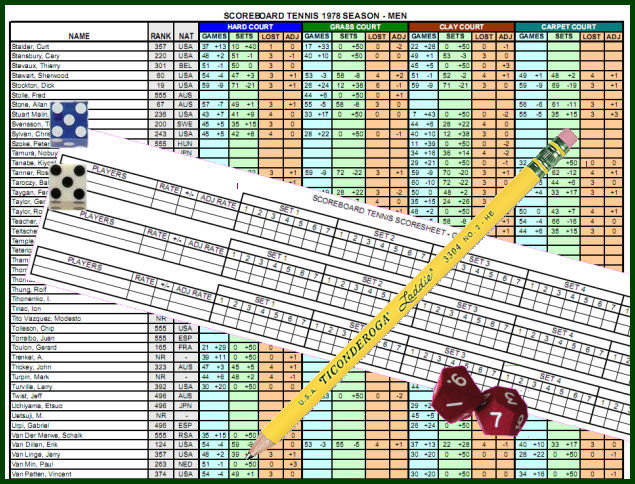 Scoreboard Tennis Game Parts:

$FREE of charge for the PDF / eBook
Scoreboard Tennis is a quick play tennis game. Below are the game parts, which are free to download. The archive file contains the rulebook, a sample of 2009 Men's season and scoresheets all in PDF format.

eBook game comes with everything you need to play, except dice.

| | |
| --- | --- |
| | Download PDF |
| Scoreboard Tennis Game Parts | |

'Anyone who likes quick games and Tennis - I highly recommend this.'

'The number of players included is massive...'
---
Pro Tour Seasons for Scoreboard Tennis
Bring to life the Professional Tennis tour on your tabletop with one of the many seasons available for Scoreboard Tennis. Every player who played in the Pro tour is rated. No other tennis game offers the number of players that Scoreboard Tennis does. The match-up possibilities are endless. Each set includes a list of the tournaments played during the season. Both the Men & Women sets are sold separately.

Grab your favorite season(s) recreating various pro tour years!

$6.00 - $9.00 for the PDF / eBook - board game version
Game rules can be found in the game parts archive above.

Tour Year (Board Game)

eBook / PDF

(via Email)




'I have bought 2009 and love the game and can see running a lot of quick tournaments with it.'

'The entire tourney probably took less than 15 minutes even though it was my first matches with the game. I enjoyed it. I will do more I'm sure.'

''
---
Scoreboard Tennis Helpers for Microsoft Excel
Enter player ratings and play out many matches on your windows based PC. There is one helper for 3 Set matches and one for 5 Set matches..
---